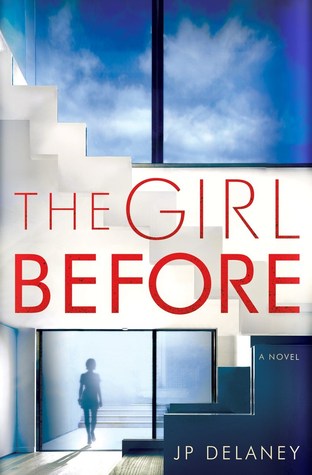 This is one of the most interesting books I have read this year. I love mysteries and this one is in the psychological thriller subgenre. It started a little bit slow as I was getting to know Emma and Jane, and kept building straight through the end.
Emma and Jane are alternating first person narrators as "then and now" tenants in an unusual ultra-modern "concept" house that they must apply to rent by taking a personality-type test (questions from the test are spaced throughout the book and an interview with the celebrity architect who designed it. Once selected, they are able to rent it at a bargain price in exchange for following an exacting set of rules. The rules are so encompassing that living in the house starts to change who they are and the house almost becomes a character of its own. At the very least it is an extension of the architect. Emma moves in with her boyfriend after a break-in at their previous apartment. Jane moves in some time later after a personal loss.
As the story unfolds through the eyes of these women, it is hard to figure out what happened. At first you lean one way and then you learn more information and go the other way until the author has you neatly tied up in knots. Even at the very end, I still think there is room for things to go a couple different ways. You think the book has most likely ended one way, but I'm just not 100% sure. That sense of being not quite certain what is going on is one of the reasons this was such a good psychological thriller.
I am going to tell all my reader friends to get this book.
I received a free advanced readers copy of this book through the Amazon Vine program in exchange for a review.